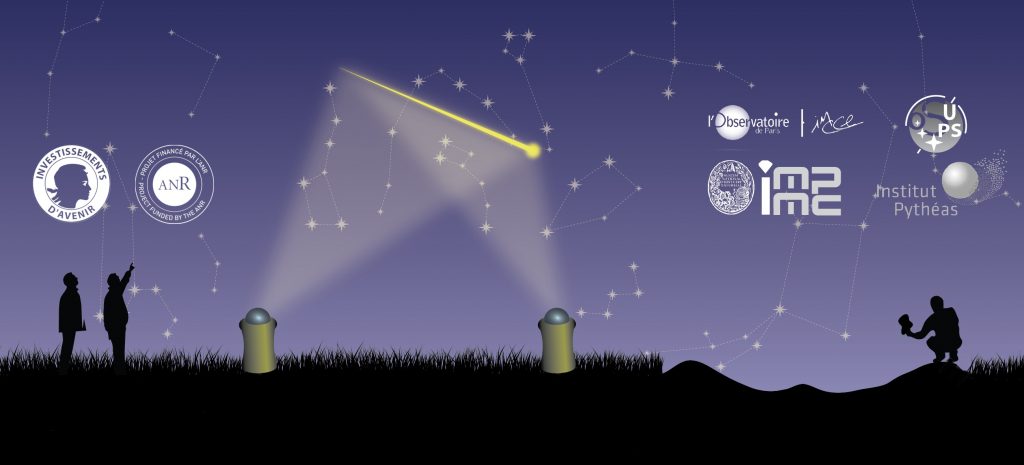 History
The FRIPON project was approved by the French National Research Agency (ANR) in July 2013.
The funding obtained has allowed to cover the whole French territory with "Fish Eye" cameras
and radio receivers based on GRAVES radar listening. Equipment tests began in early 2013 thanks to a
funding from the Scientific Council of the Paris Observatory. The definition and testing of all the equipment was completed in late 2014. The delivery of the cameras was completed in mid 2015. The installation of the 100 cameras began in 2016, the network was allmost complete by the end of 2016.
At the same time, a data processing pipeline was developed that ensures :
1) The acquisition of images, the detection of fireballs, the recovery and storage of data at the Institut Pythéas (Marseille).
2) The astrometric calibration of the cameras, the astrometric measurement of the meteors, the determination of the bright trajectory by triangulation, the calculation of the obit, the dark flight and the strewn field.

From the beginning the program was conceived in symbiosis with the citizen science program Vigie-Ciel to sensitize the public to observe the sky and to search for meteorites. Vigie-Ciel is part of the 65 MILLION OBSERVERS project financed by the PIA (programme des investissements d'avenir) which aims to develop participatory science programs by making tools available to everyone to facilitate and extend participation.
Core team
Science

Francois Colas : FRIPON PI
Brigitte Zanda : Vigie-Ciel PI
Adrien Malgoyre : Project manager
Pierre Vernazza : Chief scientist
Sylvain Bouley : Co-I – Outreach
Asma Steinhauser : Vigie-Ciel
Mirel Birlan : Co-I
Laurent Jorda : Co-I
Jean Louis Rault : Co-I – Radio
Lucie Maquet : Co-I
Philippe Robutel : Co – I
Simon Jeanne : Co-I
Jérémie Vaubaillon : Co-I
Jérôme Gattacceca : Co-I
IT team
Adrien Malgoyre : Project manager
Julien Lecubin
Cyril Blanpain
Christophe Yohia
Didier Zevaco
Sem Bendjeddou
Stéphane Vaillant
Laborarories involved

Observatoire de Paris : network, pipeline, outreach
Pythéas (LAM – CEREGE) : network, meteorite
Muséum National d'Histoire Naturel : network, vigie-ciel, meteorite


The network

Alsace
Strasbourg – Jérôme VERGNE – Ecole et Observatoire des Sciences de la Terre
Osenbach – Yves Marchal – Tim Bouman – Société astronomique du Haut Rhin
Sarralbe – Pierre Wilhelm – Collège Robert Doisneau Association Sirius
Hochfelden – Véronique Debs, Patricia Finitzer – Brasserie Météor
Aquitaine
Talence – Bernard Tregon – Université de Bordeaux – Laboratoire LOMA
Sabres – Jean Philippe Ruguet – Parc naturel régional des Landes de Gascogne
Hendaye – Céline Davadan – Chatteau d'Abbadia – Académie des Sciences
Dax – Philippe Dupouy – Observatoire de Dax
Arette – Dominique Rousseu – Etablissement public des stations d'altitude La Pierre Saint Martin
Coulounieix – Olivier Bautista – Club d'Astronomie du FLEP
Cavarc – Jerôme Rudelle – Maire de Cavarc
Auvergne
Puy de Dôme – Philippe Cacault – Observatoire de Physique du Globe de Clermont-Férand
Saint Julien du Pinet – Louis Dominique Bayle – Les Editions du Piat
Aurillac – Arnaud Dardon, Pascal Trin, Emmanuelle Huet – Muséum des Volcans
Moulins – Jean François Prezeau – MAYA – Moulins Avermes Yzeure Astronomie
Bourgogne
Dijon – Vincent Boudon – Laboratoire Interdisciplinaire Carnot de Bourgogne
Migennes – Jean-Pierre Defaix – Astro Centre Yonne
Glux en Glenne – Raphael Moreau – Centre archéologique européen
Chalon sur Saône – Jean Marie Jouvard – IUT Chalon sur Saône – Université de Bourgogne
Châtillon sur Seine – Patricia Janeux – Communauté de Communes du Pays Châtillonnais
Bretagne
Brest – Pascal Le Du – Service Hydrographique et Océanographique de la Marine
Rennes – Priscilla Abraham – Planétarium de Rennes
Pleumeur Bodou – Maxime Piquel – Planetarium de Bretagne
Vannes – Thomas Appere – Club Astronomie de Rhuys Château d'eau de Kersaux
Belle Ile – Jean-Claude CUZON, Christian Krier, Bernard Bobiet – Association Astronomique de Belle-Isle-en-Mer (AABI)
Centre
Orléans – Sebastien Celestin, Matthieu Garnung – Laboratoire de Physique et de Chimie de l'Environnement et de l'Espace (LPC2E)
Nançay – Philippe Cavier – Pole des Etoiles de Nancay
Tauxigny – Jean Louis Dumont – Société Astronomique de Touraine
Pierres – Marciel Maignan, Jean Marc Plumel, François Hyaume – Observatoire de Boisricheux
Saint Denis les Jouhet – Laurent Duvignac Ecole primaire de St Denis les Jouhet
Champagne Ardenne
Reims – Maud Rotger-Languereau – Bruno Grouiez – Groupe de Spectrométrie Moléculaire et Atmosphérique
Valcourt – Pietro Bergamini – Observatoire de Valcourt
Charleville Mézières – Florian Peth – École d'Ingénieurs en Sciences Industrielles et NumériquE (EISINE)
troyes – Gérard Davy – Arthue Ebel – Université de Technologie de Troyes (UTT)
Corse
Biguglia – Pierre-Mathieu Nicolai, Antony Murati- Site Stella Mare
Porto Vecchio – Gérard Férrant – Lycée Polyvalent Jean Paul de Rocca Serra
Ajaccio – Lucien Luciani – Astronomes Amateurs Ajaccio
Zicavo – Marc Vidal-Alaiz, François Marie Dominici – Mairie de Zicavo
Franche-Comté
Besançon – Francois Meyer – Observatoire de Besancon
Belfort – Michel Bardy – Planétarium de Belfort
Pontarlier – Nicolas Esseiva – Club-Observatoire de La Perdrix
Saint Lupicin – Martin Schieffer – Mairie de Saint Lupicin
Île de France
Paris – François Colas – Observatoire de Paris
Paris – Brigitte Zanda – Muséum National d'Histoire de Naturelle
Gretz Armainvilliers – Arnaud Leroy – Uranoscope de l'Ile de France
Le Vaudoué – Jacques Laskar – Le Vaudoué
Languedoc-Roussillon
Montpellier – Yohann Scribano, Julien Morin
Bizanet – Serge Sales – Planète et Minéral Association
Le Bleymard – Guy Herbreteau – Club Astrolab
Cailhavel – Georges Varennes, Club Alpha Centauri
Mantet – Vivien Pic, Fanny Maury – Mairie de Mantet
Limousin
Rochechouart – Paul Rougier – Association Pierre de Lune
Saint Bonnet Elvert – Natalie Parisot – Ciel et Espace en Corrèze
Aubusson – Gilles Pallier – RécréaSciences (CCSTI du LIMOUSIN)
Lorraine
Vandoeuvre lès Nancy- Michel Champenois, Larry Shengold – Centre de Recherches Pétrographiques et Géochimiques (CRPG)
Epinal – Didier Mathieu – Planétarium d'Epinal
Homécourt – Remi Baldo – site d'experimentation depollution des sols
Midi-Pyrénées
Pic du Midi – François Colas – Observatoire du Pic du Midi (IRAP-OMP)
Toulouse – David Baratoux, Ghylaine Quitte – Observatoire de Toulouse (IRAP-OMP)
Guzet – Pierre Defives, PIerre Coadou – Communauté de Communes du Canton d'Oust
Albi – Bruno Caillier – Centre Universitaire JF Champollion
Cahors – Annabel Foucault – Carrefour des Sciences
Mauroux – Bruno Monflier – Ferme des étoiles
Onet le Chateau – Laurent Corp, Thomas Andrieu – Sciences en Aveyron
Gramat – Philippe Bramond – ACM Gramat Astronomie
Nord pas de Calais
Lille – Alain Vienne – Observatoire de Lille – IMCCE
Cappelle la Grande – Didier Schreiner – Planétarium de Cappelle la Grande (Le Plus)
Wimereux – Philippe Notez – Station marine de Wimereux (Université de Lille)
Maubeuge – Michel Verlinden – Lycée Pierre Forest
Arras – Stéphane Groult, Florent Deleflie – Lycée Robespierre
Normandie
Querqueville – Dominique Boust – Groupe astronomique Hague-Querqueville
Caen – François Costard, Franck Lelong – Laboratoire Morphodynamique Continentale et Côtière (M2C)
La Ferté Bernard – Michael leblanc – Lycée Polyvalent Robert Garnier
Rouen – Eric Mandon – Observatoire de Rouen
Vains – Juliane Lecomte – Eco musée de la Baie du Mont St Michel
Flottemanville-Hague – Olivier Carell – Planétarium de Ludiver
Picardie
Amiens – Patrick Francois – Université de Picardie Jules Verne
Compiègne – Eduard Antaluca – Université de technologie de Compiègne (UTC)
Saint Quentin – Laurent Portois – Club St Quentin Astronomie
Pays de la Loire
Nantes – Nicolas Mangold – Laboratoire de Planétologie et Géodynamique (LPG) Nantes
La Chapelle aux Lys – Olivier Sauzereau – Mairie de la Chapelle aux Lys
Angers – Nicolas Mangold, Eric Béneteau – Laboratoire de Planétologie et Géodynamique (LPG) Angers
Laval – Jérôme Galard, Antoine Armand – Observatoire Populaire de Laval – Planétarium
Le Mans – Regis Mourgues, Pail Bessin – Département de Géosciences – LPG Le Mans
Poitou-Charentes
Poitiers – Mouloud Benammi – Laboratoire Paléontologie Evolution Paléoécosystèmes Paléoprimatologie Université de Poitiers
Angoulême – Eric Barbotin – Crêche "La Maison de Kirikou" Mairie d'Angoulême
Royan – Jean-Jacques Hillairet, François BROSSARD – Association d'astronomie du pays Royannais
Marigny – Sylvain Carreau – Association d'astronomie Têtes en l'air
Provence-Alpes-Côte d'Azur
Marseille – Pierre Vernazza, Laurent Jorda – Laboratoire d'Astrophysique de Marseille – Pythéas
Aix en Provence – Jerome Gattacceca – Centre de Recherche et d'Enseignement de Géosciences de l'Environnement – Pythéas
Saint Michel l'Observatoire – August Le Van Suu – Observatoire de Haute Provence
Barcelonnette – Fanny Gaborit – Centre Seolane
Caussols – Jean Pierre Rivet – Observatoire de la Cote d'Azur (OCA)
Hyères – Xavier Henry – Observatoire du Pic des Fées
Les Angles – Alain Lienard, Sylvie Cointin – Club Parc astronomie du soleil et du cosmos
Salon de Provence – Jean Louis Marin – Lycée Salon de Provence
Rhône-Alpe
Grenoble – Pierre Beck, Eric Lewin – Institut de Planétologie et d'Astrophysique de Grenoble (IPAG)
Lyon – Cathy Quantin-Nataf – Laboratoire de Géologie de Lyon : Terre, Planète, Environnement
Sutrieu – Etienne Ravier – Observatoire de la Lèbe
Aubenas – Jean Yves Meyer – Mairie d'Aubenas
Villerest – Eric Bouchez – Mairie de Villerest
Pic de Bure – Bertrand Gautier – Institut de Radioastronomie Millimétrique
Beaumont lès Valence – Jean François Leoni – Observatoire des pléiades
Le Versoud – François Cochard – Shelyak Instrument
Ile de la Réunion
Maido – Yann Hello – Observatoire du Maido