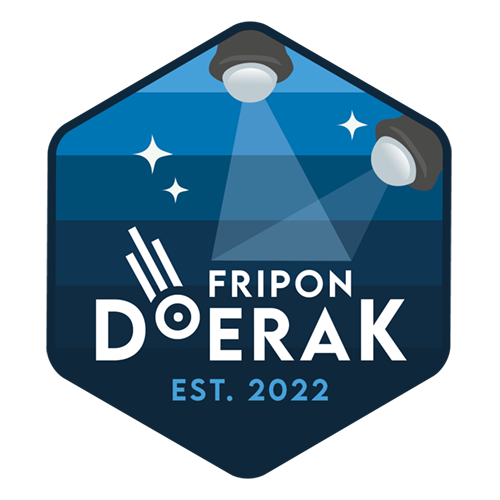 History
The local network of FRIPON in the Netherlands was launched in 2018 by researchers from ESA-ESTEC working on meteors and planetary defence. Detlef Koschny and Andrea Toni started out with a network of three cameras positioned in Noordwijk, Oostkapelle and Groningen. Later, cameras joined from rooftops in Dwingeloo, Tilburg and Denekamp. In 2022 the coordination of the national network FRIPON-NL was transferred from ESA-ESTEC to TU Delft. To mark this occasion the network was renamed in 2022 to DOERAK, for 'Dutch Observers of Entries to Recover Asteroidal Krumbs'.
The Netherlands is home to a vibrant meteor observers community, active within the Meteor Section of the KNVWS, Dutch Meteor Society and on an individual basis. Over the past years researchers and amateurs have joined forces to coordinate and carry out meteorite search and recovery campaigns. The DOERAK camera network thus fits well within this ecosystem and will support these initiatives by contributing valuable observational data.
National coordinator
Dr. Sebastiaan de Vet (TU Delft)
Local network (stations)
Detlef Koschny (Noordwijkerhout)
Felix Bettonvil (ASTRON, Dwingeloo)
Klaas Jobse (Oostkapelle)
Arnold Tukkers (Denekamp)
Leo Remijn (Tilburg)
Harry Kiewiet (RUG, Groningen)
Outlook
During 2022-2023 DOERAK will continue to expand with the installation of at least 5 additional cameras at various locations across the Netherlands. This expansion will achieve full coverage of Dutch airspace. A new initiative is currently being set up at TU Delft that aims at correlating multi-station detections by DOERAK (FRIPON) with infrasound signatures.
Links